Bharatiya Chitra Sadhna(BCS) released the Poster of Fifth Edition of three-day gala Chitra Bharati Film Festival (CBFF) during a program at IIMC (Indian Institute of Mass Communication) campus Jammu ,which will be held in Panchkula (Haryana) from 23rd to 25th February ,2024 . CBFF organises national film festivals every alternate year.
Regional Director, IIMC, Jammu, Prof. Anil Saumitra, Rtd. Principal District & Sessions Judge Suresh Kumar Sharma, Manas Bhattachariee from Vivekananda Kendra , Academic Advisor IIMC Jammu, Sant Kumar Sharma along with other dignitaries and members of Bharatiya Chitra Sadhna J&K relesed the poster of Chitra Bharati Film Festival 2024, during the occasion of panel discussion on 'Diversity, Inclusion & Mutual Respect' organised by the joint collaboration of Indian Institute of Mass Communication (IIMC), Jammu and Vivekanand Kendra, Jammu at IIMC Campus.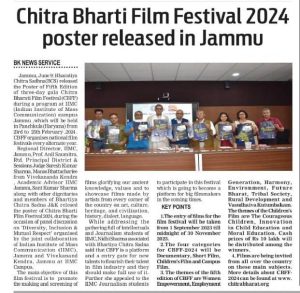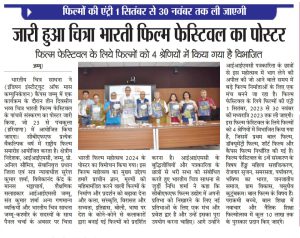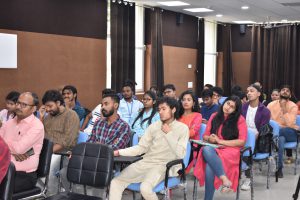 The main objective of this film festival is to promote the making and screening of films glorifying our ancient knowledge, values and to showcase films made by artists from every corner of the country on art, culture, heritage, and civilization, history, dialect, language.
While addressing the gathering full of intellectuals and Journalism students of IIMC, Nidhi Sharma associated with Bharatiya Chitra Sadhna
said that CBFF is a platform and a entry gate for new talents to flourish their talent in film industry and they should make full use of it. Further she appealed to the IIMC Journalism students to participate in this festival which is going to become a platform for big filmmakers in the coming times.
Key Points
1.The entry of films for the film festival will be taken from 1 September 2023 till midnight of 30 November 2023.
2.The four categories for CBFF-2024 will be Documentary, Short Film, Children's Film and Campus Film.
3. The themes of the fifth edition of CBFF are Women Empowerment, Employment Generation, Harmony, Environment, Future Bharat, Tribal Society, Rural Development and Vasudhaiva Kutumbakam. The themes of the Children's Film are The Courageous Children, Innovation in Child Education and Moral Education. Cash prizes of Rs 10 lakh will be distributed among the winners.
4. Films are being invited from all over the country on these main subjects.More details about CBFF-2024 can be found at www.chitrabharat.org